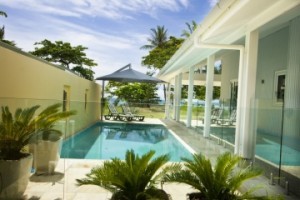 Improving the presentation of your home may be as simple as de-cluttering, rearranging furniture, and finding ways to maximise natural light. It doesn't have to be a costly exercise, but if you do it right, it can significantly add value to your property. We recommend engaging a professional photographer providing enormous benefits to the selling process and at a very reasonable cost. We are able to arrange a professional photo shoot for you. Virtual tours and the creation of a floor plan are both cost effective and deliver great benefits in the presentation of your property on the internet. Ray White Mission Beach are able to arrange all this for you.
F is for "first impressions"
Sweep the front porch, clear away cobwebs, and clean the windows. Clean and repair roof gutters. Make sure the lawns have been mowed, and the garden is tidy. Knee-high weeds do not create a good impression! If you want potential buyers to care about your property, then show them a property that is well cared for.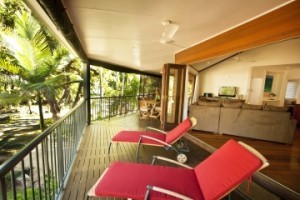 O is for "odour"
Remove the pets & deodorise! Pet smells (& cigarette smells) can be very off-putting. If you have lived with pets indoors for an extended period, you may not even notice the smell, but visitors certainly will. Ask a friend to come into the house and tell you if they can detect any unpleasant odours. Deodorisers should be effective, but subtle. Incense can be too strong, and may irritate people. Oil burners are a good option, and electric oil burners are safe and easy to use. Fragrance sticks are another option. Put clean towels in the bathroom & fresh linen in the bedrooms. Consider having the carpets steam cleaned a few days before the marketing campaign commences.
R is for "repair"
Tend to minor repairs. Consider repainting: it may be worthwhile if the walls are shabby, or you have any unusual colour schemes that buyers could find off-putting. Neutral tones always work best, they have a clean, fresh appeal & make it easier for buyers to envisage their own furniture in the home.
S is for "security"
One aspect that can cause discomfort for vendors is the fact strangers will be coming into their home every week. It is wise to protect your privacy. Don't leave your mail or personal documents lying around, & remember that buyers will open drawers & cupboards. Secure any valuables, and consider putting away your framed uni degrees, wedding photos & family photos.
A is for "ambience"
The decision to purchase a property is an emotional one, so consider the role that the senses play. Consider the way light, colour and composition can enhance a space. Some vendors will go to great lengths to turn their property into a display-home, but this is not necessary. If you try to make the place look too perfect, it may seem sterile and unnatural. Buyers will be walking through the home imagining whether it is the right place for them to live, so try to make the property look welcoming, without adding too many personal touches. A wall of family photos may be of interest to you, but how will buyers imagine their own photos hanging on the walls if all they can see are yours? Properly placed, mirrors can be used to enhance a feeling of spaciousness, expansion & light. Indoor plants & flowers look good, smell good, & provide health benefits. Consider the seasons & make the most of what you've got! If it's a cold day, have the fireplace going so potential buyers will know just how cosy and comfortable the home is in winter. If it's mid-summer, have the cooling system turned on.
L is for "less is more"
A clutter-free home will create a feeling of spaciousness. If you have lived in the home for many years, you will have probably accumulated a great deal of "stuff". Have a big clean out! Donate unwanted goods to charity, or offer them to family and friends. Pictures on the walls can add interest, but don't get too carried away: too many items on the walls can make a room feel smaller or closed-in. Ensure the bathroom(s) and kitchen have been thoroughly cleaned. De-clutter the kitchen bench, & remove personal items from benchtops and vanities. People will open cabinet doors to see how much storage space is available, so make sure they are kept tidy.
E is for "expert advice"
Consider advice from the agent who is looking after your property. Don't forget that he or she has handled many properties, & heard all sorts of feedback from buyers – when it comes to home presentation, they have seen what does and doesn't work.