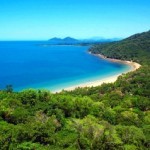 Bingil Bay
Bingil Bay is located 5 kms north of Mission Beach and only a few minutes drive. The area features rainforested coastal ridges forming an ampitheatre like formation around a classic coconut palm fringed beach. A few kms to the north is King Reef a large coral reef with 7 lush tropical islands (in the Barnard Group) nearby. Bingil Bay is almost entirely a leafy residential area and borders onto the Clump Point National Park.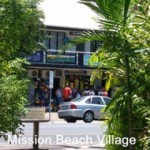 Mission Beach
Mission Beach is more of a boutique area compared to the other local precincts. It has Coffee Shops, Takeaways, Boutiques, an Art Gallery, Restaurants, local Businesses, Resorts and Holiday Homes clustered along a magnificent clean sandy coconut beach with Dunk and Bedarra Islands nearby offshore. It is a unique blend of rural holdings with fat cattle in lush pastures adjoining the local businesses nearby the Mission Beach Village. The Great Barrier Reef Marine Park begins from the low water mark at Mission Beach and extends out to the Great Barrier Reef.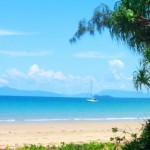 Wongaling Beach
Wongaling Beach is approximately 5km south of Mission Beach and is where the official CBD is located and planned to expand. It is a mix of local businesses including a Supermarket, Takeaways, Restaurants, Resort, Car hire, a Service Station and various transit operations. There is a very substantial residential component to Wongaling, stretching out for a few kms along a pristine beach. Extending west no more than a km or so you'll also find Churches Police, Ambulance and a Primary School at Wongaling Beach. Nearby Dunk Island can be accessed via the local Water Taxi or by the Quick Cat departing from Clump Point Jetty two minutes north of Mission Beach.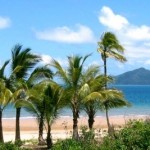 South Mission Beach
South Mission Beach is a picturesque 4 minute drive south of Wonglaing Beach and is the south most settlement in the Mission Beach area. It is primarily a residential area with a large Caravan/Tourist Park with shop and restaurant. There are two resorts perched up high on rainforested coastal ridges. To the east are a dozen lush tropical islands and to the west is the Hull River National Park less than 1 km from the beach. The endless beach is clean with turquoise waters extending across to Dunk Island and the Great Barrier Reef only 45 minutes beyond.
Kurrimine Beach
Kurrimine Beach is a quiet residential area 25 minutes north of Mission Beach by road but much closer by boat. Kurrimine has a Motel, Servo, Resort/Hotel and Caravan/Tourist Park. It is famous for fishing and boating with King Reef and several lush islands just offshore.
Garners Beach and Brooks Beach
Garners Beach and Brooks Beach are idyllic beaches only 10 minutes north of Mission Beach along an incredibly picturesque coastal road and a few minutes from Bingil Bay. They are both beautiful secluded beaches each with a small residential community of only a few properties. King Reef is just offshore as are several islands in Great Barrier Reef waters.
Mission Beach Hinterland
El Arish is a small town 15 minutes west of Mission Beach and is on the main Highway 1. It has some shops, a school, police, ambulance and hotel. El Arish was a World War I soldier settlement area and has a rich history. It has the most picturesque golf course.
Silkwood is an another small rural district 20 minutes north of Mission Beach and has a school, ambulance and hotel. It is a quiet rural community in a sugar cane area.
Tully is a vibrant rural town whose economy is based on the Sugar Mill, Banana Industry and cattle. It is only 20 minutes to Mission Beach and on the main highway. Tully offers services such as police, hospital, nursing home, golf course, supermarket, banking, hotels and many more services.
Carmoo is a rural residential area with large 4000m2homesites and a boat ramp provides access to the mighty Hull River System – a World Heritage listed area. It is about 10 minutes southwest of Mission Beach.
Feluga and East Feluga are rural areas off the main Bruce Highway and about 15 minutes west of Mission Beach. Feluga has a hotel. The area is predominately a sugar cane region with some cattle properties. East Feluga has small acreages and is only 10 minutes from Mission Beach along the Tully road.
Merryburn is a small acreage hamlet 15 minutes from Mission Beach and 5 minutes from Tully, on the Mission Beach/ Tully Road. It provides a quiet quality lifestyle in a rural setting.